| Item ID | Starting Bid | Bids | Current Bid |
| --- | --- | --- | --- |
| 49216 | $600.00 | 1 | $600.00 |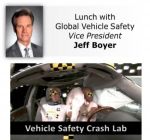 Safety Performance Immersion Experience and Lunch with Jeff Boyer, GM VP of Global Vehicle Safety.
Opportunity for two (2) individuals
Individuals to be screened for competitor conflicts
Full day overview of Safety Performance Integration, Safety Computer aided engineering and Testing including tour of Vehicle Safety Crash Lab in Warren, MI.
Crash lab tour could include crash dummy lab, component test lab, suppression testing lab and component level sleds test.
Lunch with Jeff Boyer Vice President of Global Vehicle Safety
Lunch location to be selected by Jeff in the Warren, MI area
Travel to Warren, MI not included.